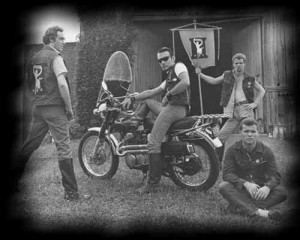 Centaur Motorcycle Club (Centaur MC) consists of a group of men with an enthusiastic interest in motorcycles, leather and other men. The club sponsors Mid-Atlantic Leather Weekend (MAL); Mr. Mid-Atlantic Leather Contest (Mr. MAL); and the bi-annual woodsy recreational Labor Day Weekend event, Olympia. The Club takes both a serious and irreverent approach to designing events for the amusement and enjoyment of the greater Leather Community. Centaur MC also participates in a wide variety of philanthropic and social fundraising events.
---

---
The Centaur MC wish to extend our congratulations to our Pantheon of Leather-Nominated Brothers:
David Dean
John Peter (JP) Halford
Rick Hutchings
Thomas Idoux
Dan Noel
Todd White
Your nomination is a ringing endorsement of your exceptional representation in the community.
In Brotherhood