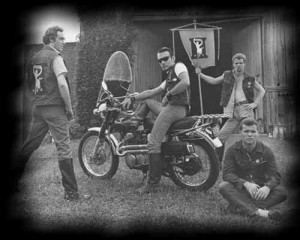 Centaur Motorcycle Club (Centaur MC) consists of a group of men with an enthusiastic interest in motorcycles, leather and other men. The club sponsors Mid-Atlantic Leather Weekend (MAL); Mr. Mid-Atlantic Leather Contest (Mr. MAL); and the bi-annual woodsy recreational Labor Day Weekend event, Olympia. The Club takes both a serious and irreverent approach to designing events for the amusement and enjoyment of the greater Leather Community. Centaur MC also participates in a wide variety of philanthropic and social fundraising events.
---

---
September 1, 2016
The Centaur MC are pleased to be the recipients of the 2016 Pantheon of Leather Award for Large Event of the Year for Mid-Altantic Leather Weekend along with Toronto Leather Pride Weekend.
Some 200 individuals, clubs, businesses and organizations are nominated for the Pantheon of Leather Award. This year the awards were presented at the Doubletree Dallas By Hilton in Dallas, TX on Thursday night, September 1 during International Leather Sir, Leatherboy and Community Bootblack 2016 (ILSLb ICBB) Weekend.
There are 26 categories in which a Selection Panel comprised of 2015 Award recipients, two categories where the honorees are selected by popular write-in vote and one category where Pantheon of Leather president and founder Dave Rhodes unilaterally selects four individuals to be honored.
The first Pantheon of Leather was held at the Circus Disco in Hollywood, CA in January 1991. Since then, Pantheon has been held in Los Angeles, Orlando, Houston, Chicago, Los Angeles, Atlanta and now Dallas. In that time almost 600 Awards have been presented.